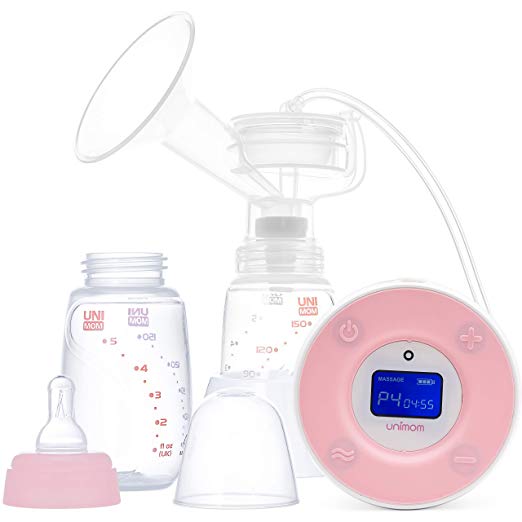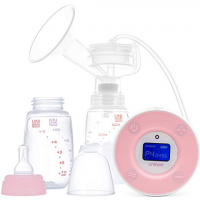 This innovative, more compact design provides powerful, double expressing performance. It features 7 levels of massage modes and 9 levels of expressing modes to make pumping more comfortable and efficient. With an in-built rechargeable battery. View more
Product Description
The Minuet Electric Breast Pump from Unimom makes expressing milk quick, easy and comfortable. It's packed with innovative features that make it easy to pump milk discretely anywhere. BENEFITS & FEATURES:
Compatible with All Bottles
FDA Approved as A Multi-User Pump
Portable and Quiet
Effective Single/Double Sided Expression
Rechargeable Battery – 1hr 30 minuets of Charging Will Give 2hr 30 minutes of Portable Pumping Life
USB Port for Convenient Charging
Electronically Controlled
LCD Display and Soft Touch Controls
7 Adjustable Cycles/Vacuum Suction Levels For Massage Mode
9 Adjustable Cycles/Vacuum Suction Levels For Expression Mode
Hygienic Closed System with Backflow Protection
Switch to Manual Pump Using Switch Kit (Optional Accessory, Not Included)
Convenient 360 Degree Swivel Top To Prevent Air tube Bending and Suction Loss
Optional Silicone Massager to Provide Extra Massage Stimulation and Let Down(Not Included)
Vacuum Range: 80-300mmHg
Supports 110v to 240v
BPA Free – All Components That Come Into Contact with Breastmilk Are BPA Free
CE Approved
1 Year Warranty
WORKS FOR YOU!
State of the art features make it easier and more comfortable for mothers to express breastmilk. It features an easy to read LCD display and adjustable modes that can be controlled with the click of a button.
KIT INCLUDES:
1 Minuet LCD Electric Breast Pump
4 Breast Shields (2- 24mm 2- 27mm)
2 White Valves
2 Bottle Stands
2 Bottles
2 Bottle Covers
2 Caps
2 Disks
2 Silicone Diaphragms
2 Top Covers
2 Air Tubes
2 Silicone Massagers (Fits Only The 24mm Breast Shield)
1 B-Connector
1 Micro USB to USB Cable
1 AC Adapter